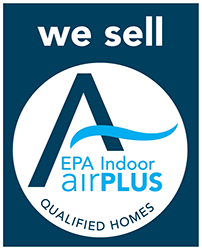 C & B Custom Homes, Inc (our preferred builder) is the ONLY contractor nationwide to win the EPS's Indoor airPLUS Leaders award 5x's running with the most recent award being the 2018 Innovation Award from the US Department of Energy!
C & B Construction of Cottonwood, AZ.: The U.S. Environmental Protection Agency has recognized C & B Construction for its outstanding commitment to constructing homes with improved indoor air quality through participation in the Indoor airPLUS program. C & B Construction was one of only three homebuilders to be honored with a 2014-2018 Indoor airPLUS Leader Awards.
"Our award winners have made wonderful contributions to raising homeowner awareness and providing higher quality homes with a focus on improved indoor air quality," said David Rowson, Director of EPA's Indoor Environments Division. "These builders and Home Energy Raters are helping to lead a competitive homebuilding market by creating healthier indoor environments that benefit homeowners for years to come."
After building Energy Star FiveStar Plus homes for several years now we are finding the demand for Indoor airPLUS certified homes to be just as strong among discerning buyers." [said Bill Bullock]. "After 40 plus years building here in Cottonwood, this past year we began building Indoor airPLUS qualified homes throughout the Verde Valley and in our subdivision Grey Fox Ridge. We are proud to provide our homebuyers with high-performance homes that also offer improved comfort, safety, and peace of mind for their family. As always with C & B Construction our motto is: Quality with Efficiency in Mind."
C & B Construction as one of the distinguished winners in the small homebuilder category, constructing a total volume ofless than 30 homes per year.
All Indoor airPLUS homes also meet strict energy efficiency standards established by the ENERGY STAR Certified Homes program. Homes displaying the Indoor airPLUS and ENERGY ST AR Certified Homes labels provide unparalleled energy efficient, comfort, durability, indoor air quality, and peace of mind.
For more information on C & B Construction and its commitment to Indoor airPLUS qualified homes, visit the website for our subdivision Grey Fox Ridge at greyfoxridge.com. To learn more about the 2014 Indoor airPLUS Leader Awards or the Indoor airPLUS Program, visit www.epa.gov/indoorairplus.